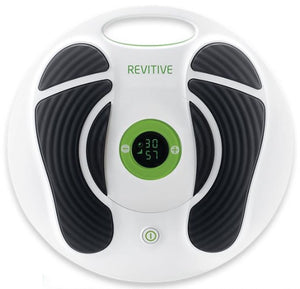 Revitive
Revitive ProRelief Circulation Booster- Relieve Sore/ Tired/ Aching Feet
Suitable For Mild Leg Problems, Revitive ProRelief Uses Electrical Muscle Stimulation To Get The Muscles In Your Calves & Feet Pumping, & May: 
Improve Circulation
Relieve Tired, Aching Legs & Feet
Reduce Occasional Swelling
Maintain Leg Health
What Is Revitive ProRelief?
Revitive ProRelief Is A Drug- Free Medical Device Using Clinically Proven Electrical Muscle Stimulation (EMS) To Activate Muscles In Your Legs & Feet, To Improve Circulation, Reduce Swollen Feet & Ankles & Alleviate Aching Legs & Feet.
How Revitive ProRelief Works-
Drug- Free, Revitive ProRelief Uses Powerful, Professional Strength Electrical Muscle Stimulation To Get The Muscles In Your Feet & Calves Pumping. This Pumps Fresh Oxygen- Rich Blood Into Your Legs & Feet, While Returning The De- Oxygenated Blood Back To The Heart. By Boosting Your Circulation Revitive ProRelief Will Aches In The Legs & Feet, & Alleviate Swollen Feet & Ankles. 
Features & Specifications- 
Patented Waveform Technology-

 

Clinically Proven Waveforms Combine Targeted Muscle Activation, With Specific Relaxation Periods, For A More Effective & Comfortable Muscle Stimulation.
Patented IsoRocker System-

 

Standard 15' IsoRocker Gently Allows Ankle Joint Movement To Replicate Heel- Toe Raises As The Leg Muscles Contract & Relax.
Full Body Pain Management-

 

Dual Mode Body Pads Combine Two Proven Technologies- EMS & TENS, Which May Provide Relief From Chronic Pain Such As Shoulder & Elbow, & Temporary Pain Relief To The Lower Back.
16 Stimulation Waveforms- 
To Help Avoid Muscle Habitation (Muscles Start To Contract Less Effectively When Repeatedly Doing The Same Thing) There Are 15 EMS Waveforms, Each With A Different Pattern, Plus One TENS Waveform For Immediate Relief Of Persistent Pain.
Whats In The Box- 
Revitive Medic
Adaptor
Electrode Body Pads
Electrode Cord
Remote Control- AAA Batteries x2
Who Cannot Use Revitive?
 Do Not Use If: You Are Fitted With An Electronic Implanted Device Such As A Heart Pacemaker Or Automatic Implantable Cardioverter Defibrillator (AICD), You Are Being Treated For, Or Have The Symptoms Of An Existing Deep Vein Thrombosis (DVT), You Are Pregnant.