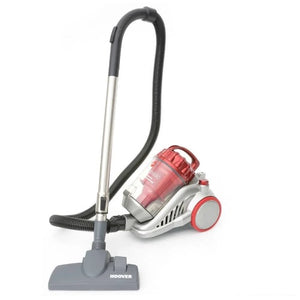 Hoover
Hoover Classic Multi- Cyclonic Bagless Hepa Vacuum Cleaner- HBL820
High Efficience 1500W Motor.
4 Stage HEPA Filtration.
Highly Compact Design.
Excellent Cleaning Performance.
Multi- Cyclonic Bagless Technology.
Seperates & Traps A Very High Proportion Of Dust & Dirt From Your Floor, Meaning A Cleaner Home.
Lightweight & Portable.
Satin Painted Finish.
Washable HEPA Filters Which Keep Your Family Healthy.
Easy Park System.
The Stainless Steel Telescopic Rod Can Be Rested Into The Slot On The Rear Of The Machine For Easy Parking.
Retractable Cord.
Combination Floor Tool.
2 In 1 Crevice/ Dusting Tool.