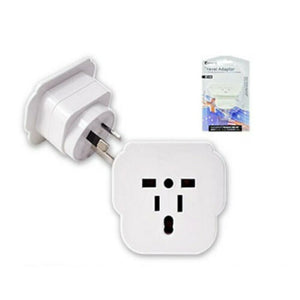 Sansai
3x Sansai Universal Travel Power Plug Adapter Outlet UK EU US CA To Australia/NZ
World To Australia/ NZ Travel Adaptor.
For Incoming Tourists To Australia & New Zealand.
Compatible With Plugs From Many Countried Including: Great Britain, Europe (Non- Earthed), Singapore, Ireland, Middle East, Africa, Canada, Japan, Philippines, Taiwan, Hong Kong, Bali, Tahiti, USA, South America, Brazil & Many More.
Voltage Rating 220- 240V- 50Hz.
Max. Load Current 10A (Max.) Power Rating 2400 Watt (Max).