SodaStream
Sodastream Black Power Electric Sparkling Drink Water Maker- Fizzy/ Bubble Drink
With A Sleek & Occurring Design, The Sodastream Source Power Black Represents Touch Sensitive Controls, An LED Display & Snap- Lock Holding System. Power Allows You To Make Sparkling Water From Tap Water With A Touch Of A Button. Powered By Electricity You Simply Fill The Carbonating Bottle With Tap Water, Choose From 3 Levels Of Carbonation & It Will Turn Into Sparkling Water Within Seconds. 
Features & Specifications-
Power Automatic Sparkling Water Maker

60L CO2 Cylinder

Reusuable Stainless Steel Accented Carbonating Bottle

Power Adaptor (AUS/ NZ)

Size Of Carbonator: Starter
Bottle Type: Metal
Bottle Size: 1L
Snap Lock Mechanism: Yes. Allowing It To Remain In A Secure Place. 
Many Flavors To Choose From (Each Sold Separately). Allows You To Make Sparkling Beverages That Will Appeal To Everyone's Taste.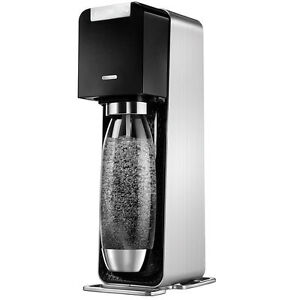 ---
More from this collection